In October of 2012, I had the honor of being one of the few artists selected to create an original piece inspired by one of the works of art displayed in the Museum of Fine Arts in St. Petersburg, FL and give a presentation at the Fine Art, Fashion, & Photography, Three Magical Worlds Collide Event. The piece of art that inspired me was "Shiva as the King of Dance" bronze for its beauty and meaning. 
"Shiva, the destroyer, shares the divine trinity of Hinduism with Brahma, the creator, and Vishnu, the preserver. Shown here as Nataraja, or supreme dancer, Shiva becomes the supreme deity who at once destroys and creates the universe. Creation is indicated by the drum held in his upper right hand, as sound is the primary manifestation of creative energy. The flaming mandorla and the flame in his upper left hand symbolize the world's destruction. The "fear not" gesture of his lower right hand offers protection, while his fourth hand, pointing down to his foot, promises salvation. One foot is resting on a dwarf figure, symbolizing the stamping out of ignorance, while the other foot is in a dancing pose that signals the release of souls to an eventual salvation."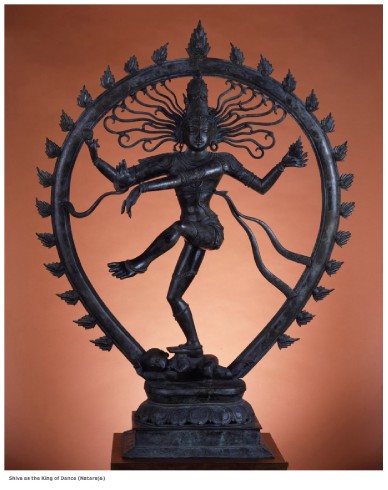 Once I selected my inpirational piece, I called my friend and amazing fashion designer, Kimberly Hendrix to see if she would be interested in collaborating with me and creating a custom dress for this project. I was thrilled that she said yes! I then had to get the perfect model and I was introduced to Hana Young, who was also gracious enough to be the model. She was absolutely perfect! We then put together the rest of the team. 
Next I wanted an authentic location to shoot the photograph, so I chose to shoot at the Hindu Temple in Tampa, FL. We coordinated a date that fit everyone's schedules and went out and made the following photographs below. The first piece is a composite of Model, Hana Young's arms in seven various positions put together in photoshop into one photo. This was a fustion of fashion photography and fine art photography. This was the main piece that was presented and on display at the Museum of Fine Arts.    
Designer: Khendrix ClothingDesign
Model: Hana Young
Makeup Artistry: Elayna Bachman
Stylist & Jewelry: Alexa Abbate
Lighting Assistant: Marcos Pena and Minh Tran
Photography: Thee Photo Ninja (Steven Le) 
Special thanks to: Aylen Suarez (NuSoBel) and Audrie Cuddy Ranon (Museum of Fine Arts)

Inspired by Shiva as the King of Dance
http://fine-arts.org/ collection/ shiva-as-the-king-of-dance-nataraja/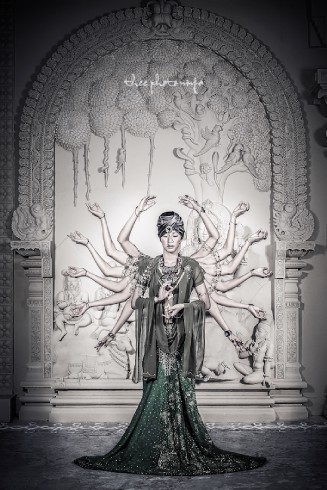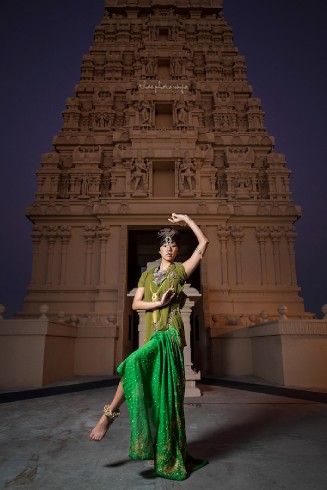 To see more of my work or to contact me, please visit www.TheePhotoNinja.com